Madhushaman Tablets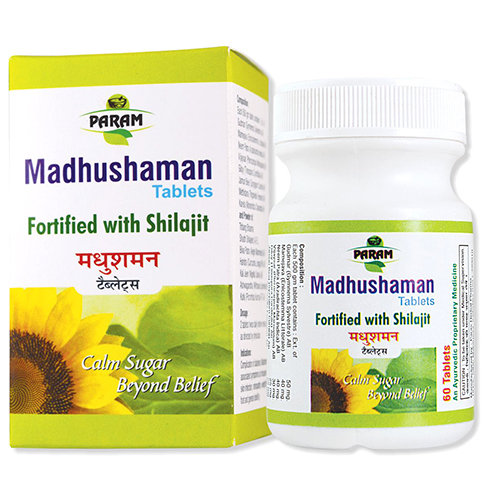 Madhushaman Tablets
Price And Quantity
Product Specifications
Product Description
Madhushaman Tablet

HERBAL ANTI DIABETIC TABLET

Action:
Madhushaman tabletis a unique glucose control formula that has a blend of several effective herbs that can control and supports healthy blood sugar metabolism by enhancing the ability of cells to accept and convert glucose more efficiently.
Ingredients in Madhushaman tablet are considered to have a natural property to reduce sugar level in blood and urine. Due to powerful mixture of ayurvedic herbs which supports stimulation of body's natural defense mechanism and also plays an important role in promoting lipid metabolism. It also has a regenerative effect on pancreatic beta cells and is insulinotropic, which means that it stimulates the production and activity of insulin.

Indications:
1. Management of type 2 diabetes along with diet and exercise.
2. Prevention of diabetic composition.
3. Cure diabetic complications.
4. In management of type 1 diabetes to reduce dose of insulin.
5. Curative of type 2 diabetes.
Formulation
 :
Each tablet contains extracts of
gudmar 50 mg, mamejava 40 mg, neem patra 40 mg, vijaysar 25 mg, giloy 25 mg, jamun beej 25 mg, methidana 25 mg, karela 25 mg.
and powders of 
Tribang bhasma40 mg, shudh shilajeet 40 mg, bilva patra 30 mg, haridra 30 mg, kali jeeri 30 mg, ashwagandha 30 mg, kutki 30 mg.
Directions for use:
2 tablet twice daily before meal with water or milk or as directed by the physician.
Side effects:
Madhushaman tabletis not known to have any side effects if taken as per prescribed dosage.