Eveforte Syrup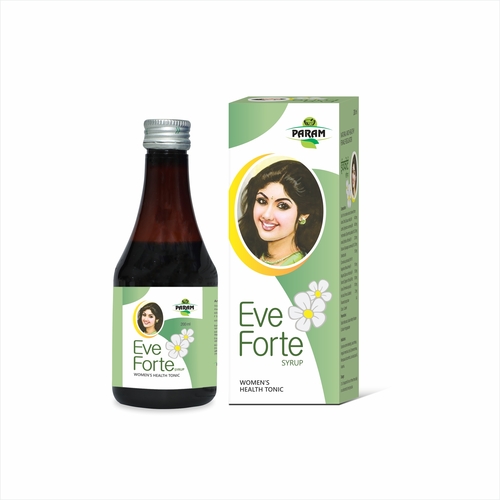 Eveforte Syrup
Price And Quantity
Product Specifications
Herbal Products Detoxifying Drugs Herbal Medicine

Ayurvedic Medicine
Syrup

3 teaspoonful two times daily or as directed by physician
Product Description
Syrup
Natural and healthy female regulator
Action:
Eveforte syrup is a non hormonal, herbomineral and effective safe remedyfor the management of heavy menstural bleeding due to menorrahagia anddysfunctional uterine bleeding.
Eveforte repairs the endometrium (Inner membrane of uterus), regularizesendogenous hormonal secretion and corrects the cyclical rhythm. It is also ahemostatatic that stops heavy bleeding in cases of dysfunctional uterinebleeding.
Indications:
Key ingredients:
Each 10 ml Eveforte syrup contains extracts derived from:
Ashok chal (saraca indica) : 400 mg
Lodhra (Symplocos Racemosa) : 400 mg
Yesthimashu (Glycerrhiza Glabra) : 200 mg
Amalki (emblica officinalis) : 200 mg
Shatavari (asparagus racemosus) : 200 mg
Shankhpushpi (convolvuls ploricaulis) : 150mg
Nagkeshar (mesua ferea) : 150 mg
Majuphal (quercus infectoria) : 150mg
Shunthi (zingiber officinalis) : 100 mg
Arjuna (terminalia arjuna) : 100 mg
Hira Kasis (ferrous sulphate) : 25 mg
Directions for use:
3 teaspoonful, two to three times daily or as directed by the physician.
Side effects:
Eveforte syrup is not known to have any side effects when taken accordingto the prescribed dosage.
Presentation:
200 ml/450 ml available in plastic bottle pack.