Chandanadi Syrup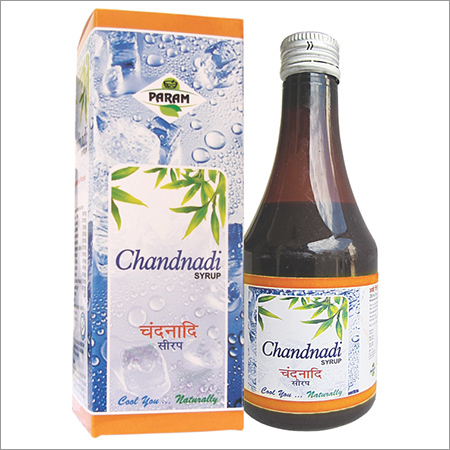 Chandanadi Syrup
Price And Quantity
Product Specifications
Product Description
Excessive body heat
Sunstroke and fever due to excess pitta
Burning sensation and perspiration
Burning micturition, Dysuria and dark urination
Prickly heat, red eyes, pruritis, skin disease caused by increased heat in body.
2 to 3 teaspoonful, two to three times daily or as directed by the physician.
Chandnadi syrup is not known to have any side effects when taken according to the prescribed dosage.
200 ml / 450 ml available in plastic bottle pack.

Key ingredients
Each 10 ml Chandnadi Syrup contains extracts derived from

Gulab Phool(Rosa centifolia)

300 mg

Amalki (Emblica officinale)

300 mg

Ushir (Vetiveria zizanioidias)

200 mg

Manjistha (Cordifolia)

200 mg

Sariva (Hemidesmus indicus)

200 mg

Shatavaari (Asparagus racemosus)

200 mg

Guduchi (Tinospora cordifolia)

200 mg

Chandan (Santalum album)

200 mg

Mishrey (foeniculam vulgarae)

100 mg

Vacha (acrous calamus)

100 mg
Payment terms : 100 % advance or d.d
Min. purchase quantity : 30000.00 gross value from all product range
Refreshing with
Gulab Phool. Chandan. Rakta Chandan.
Dhanyak. Ushir. Amalaki. Vrukshamla.
Maniistha. Mishrey
Offers
Relieves excessive body heat & Burning sensation
Calms sunstroke, fever & smelling perspiration
Reduces Burning Micturition & Enhances urination
Suppresses prickly heat & all skin disorders
Trade Information
1000 Pieces Per Day

1 Week